Four delicious NUT-FREE flavors!
12 grams of plant-based protein
10 grams of fiber
Caramel Mocha, Lemon Creme, Blueberry & Vanilla, and Chocolate Chip
More info

TRY NO NUTS! TODAY
No Nuts. No Dairy. No Eggs. No Gluten. No Cholesterol.
Plant Based and high in Protein and Fiber.
MADE WITH CARE IN A NUT-FREE FACILITY
More info
No Nuts! protein + energy bars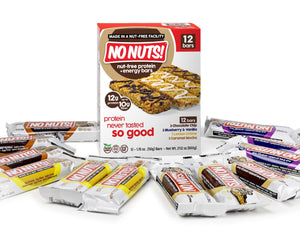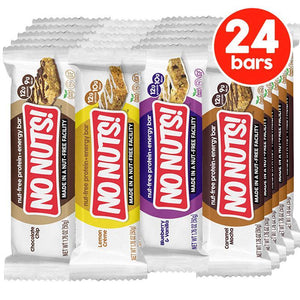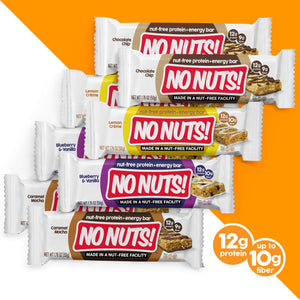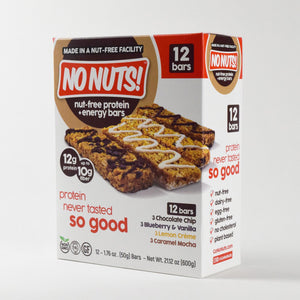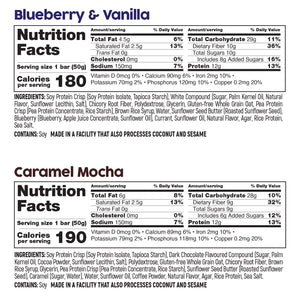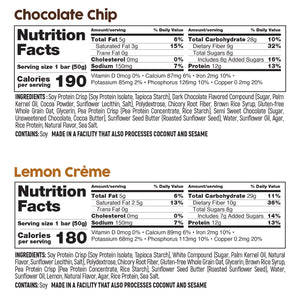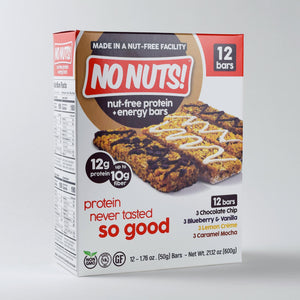 Try all 4, school-safe flavors in a convenient 12-pack or 24-pack. Find your favorite flavor, we guarantee you will love...
Learn more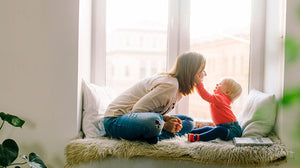 No Nuts, No Problem
We are raising the bar for modern snacking, no nuts necessary. Our bars are packed with premium ingredients and are perfectly balanced to provide nutrition, energy, and crave worthy flavor that can be enjoyed by all.
Everyone deserves to love what they eat. We said, "No!" to nuts so that everyone, regardless of allergies or dietary restrictions, can say, "Yes!" to something special. Our bars are made in a nut-free facility,'slab formed' for optimal chewy, crunchy goodness, and have less calories than a bowl of raisin bran.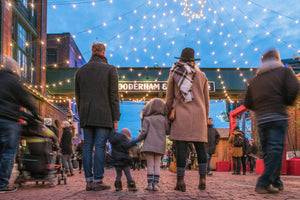 Enjoy With Delight & Confidence
To the responsible parents, growing kids, teachers, tutors, coaches, and caregivers—we created the allergy-friendly snack you've been searching for. A completely nut-free, dairy-free, worry-free, fiber & protein packed bar you can enjoy, share and serve with confidence.
We didn't set out to make a post-workout bar, a breakfast bar or a candy bar, we made a go anywhere, do anything, treat yourself bar. Whether you're kicking off the day or topping off dinner, No Nuts! Is there to satisfy.
No Nuts! carefully crafts our nut-free bars so that you can focus on the delightful side of life. Take on that challenging trail; focus on your game or your studies; feel good about family-day, flying abroad or picnics in the park because this snack has your back.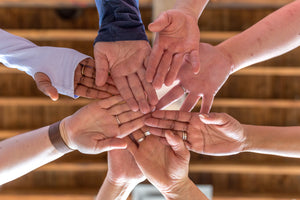 100% SATISFACTION GUARANTEED
We are so confident that you will love everything about No Nuts! protein+energy bars that we guarantee you'll be satisfied with the quality and condition of every bar. If something is not quite right with the 8-bar variety pack we sent you, simply return the remaining unopened bars and we'll send you a new 8-bar pack absolutely FREE.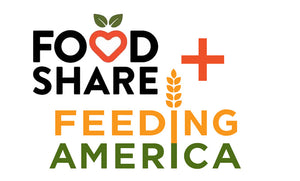 No Nuts! is a proud supporter of Foodshare and Feeding America
Foodshare and Feeding America are dedicated to leading the fight against hunger. No Nuts! is a proud supporter and donated thousands of bars every year.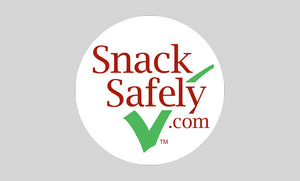 SnackSafely.com Partner
No Nuts! products are featured in Snack Safely Guide
KEEPING ALLERGENS OUT OF THE CLASSROOM AND YOUR HOME SAFE SNACK GUIDE.